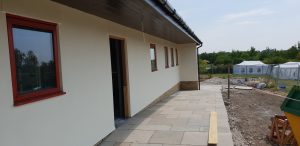 Our brand new bunkhouse is now open for business and is starting to prove to be very popular.
It sleeps 18 with a layout of 2 x 2-bed rooms, one 6-bed room and one 8-bed room.
There's a disabled wet room with shower and an additional toilet.
There is also a well equipped kitchen with american style fridge freezer including ice and cold water dispenser, a commercial 6-ring double oven gas cooker, plumbed-in hot water boiler and enough crockery & cutlery to cater for 48 people. This makes it ideal for catering for the 18 people in the bunkhouse plus additional people camping ont he field to the front.
The dining room has a large scale map of the area covering a feature wall and there's also a 55″ TV screen with a data point for HDMI, Composite & SVGA connections so you can plug-in a laptop or similar which then comes through the large TV.
The building is toastie warm with double glazing and underfloor heating throughout.
The site laundry with comemrcial washer & dryer is located in an adjoining room and is accessible from within the bunkhouse.