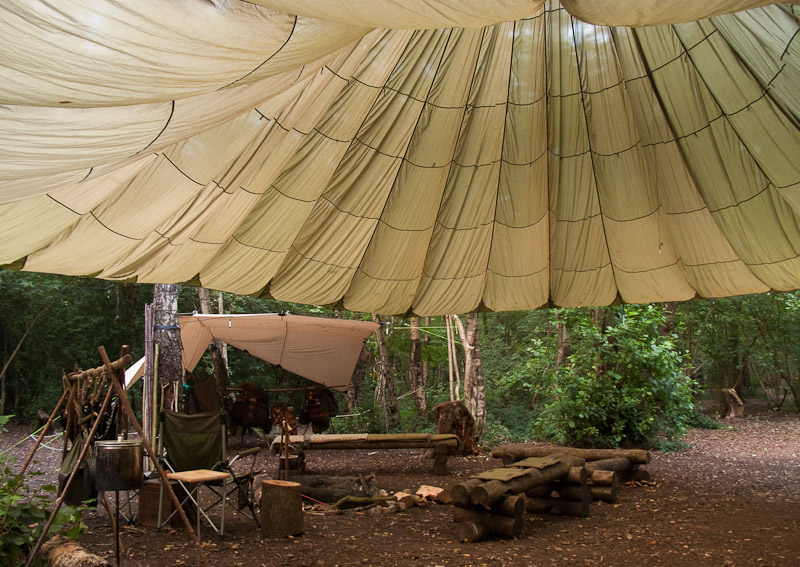 We are very excited about this new adittion to our facilities which should be in use not long after Easter.
For a small fee per night, book our Hammock Village which provides you with a 32 foot parachute central shelter with fire pit and access to a store of oil lamps, basic cooking equipment and so on. In addition for a small charge per person on top of the usual camp fees, we profide hammocks and tarps and all instructions on how to erect these in the woodland to the side of the parachute shelter.
We are also currently creating a number of programme ideas and fact sheets that we will list here so that a good programme can be created and will list the small amount of equipment you need to bring to make this adventure complete.
We'll be sharing progress on our Facebook Page as we continue to build and develop the facility but in the meantime, here's a photo of a similar facility. We'll replace this with ours as soon as it is erected.
We've designed this as a stepping-stone between the likes of a tented village and a full-blown greenfield backwoods experience. This is aimed very much at Cub age and above and should be an easy way to test out whether this is the sort of camping for you. We believe that once you have experienced this, there'll be no turning back.
If you are unsure, do chat to us, there are people here very happy to share their skills and experiences to help you get started.