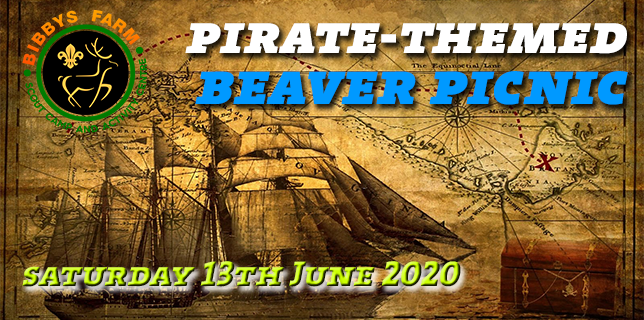 Date/Time
Date(s) - 13/06/2020
09:30 - 16:00
Location
Bibbys Farm
Categories
Following the huge success of previous Beaver Picnics, we are back to our original (and most popular) theme of Pirates
A full day of themed activities aimed at the Beaver age range (Rainbows & Brownies aged 6-8 ish also very welcome)
We'll start with flagbreak and then start the days activites which will include a huge array of our normal activities all themed to the day on top of a load more especially brought in for the day.
Bring along a packed lunch so we can all picnic together at lunchtime, drinks will be provided.
£7.50 per person, leaders and young people alike.
We're expecting this to be very popular so reserve your places sooner rather than later at risk of missing out.
In addition, we're also offering a bolt-on for the evening for those who are wanting to make a fuller day of it or even camp over.
The Movie-Night Bolt-on includes some wide games and a trail after the main event finishes with a hot dog and cake supper then a movie for all to watch indoors on the big screen.
Games start at 4:45pm, Supper at 6pm and movie from 6:30pm until around 8pm.
Bookings