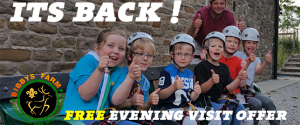 It's Back!
In 2015, we put on a very popular offer to support local Scouts & Guides.
Come up to Bibbys Farm for an evening visit and there is no charge. We have waived the evening visit fee charge so take a trip out of the Scout Hut, play some wide games, cook some sausages and have a great time for free.
We have now made this a permanent thing – No evening visit fees any more for local Scouts & Guides
You can also book some activities if you choose and there is plenty to choose from, all at great value prices.
You still need to book, that way we can ensure the toilet block is open for you and wherever possible, someone is on-site to look after you if you need anything.
Hope to see you soon…….