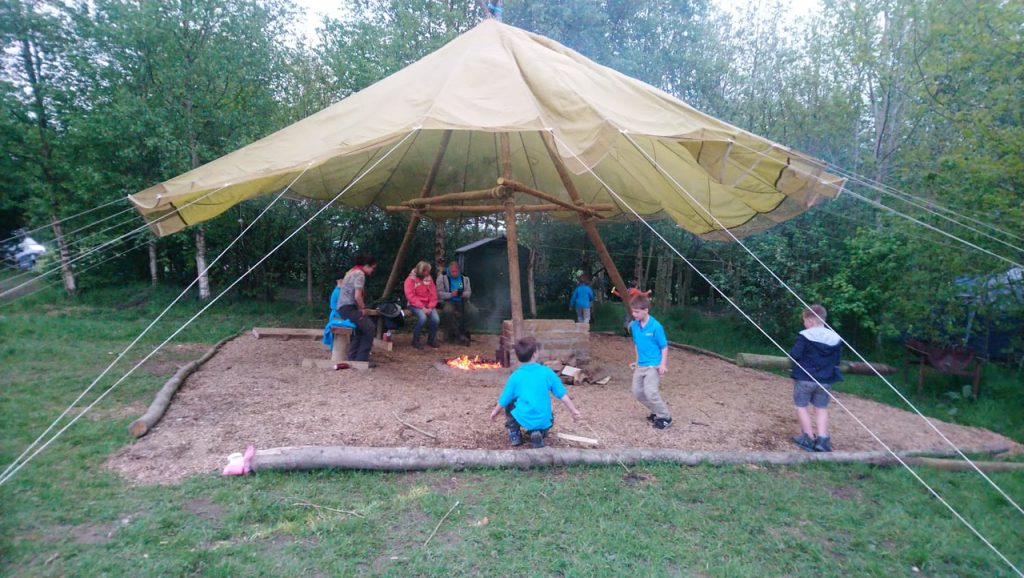 Recently, we thought that a Hammock Village may be a good idea. We were astounded by the response and there are lots of bookings for it with it in use most weekends.
The village includes a 32 foot parachute covering a wood chip floor with a central fire. There is also a wooden tripod supporting it which doubles as a support to hang pans etc over the fire if needed. In addition to a small charge per night to use the facility, we also add an extra £1.50 per person to the camp fees to cover the hire of hammocks & tarps for everyone staying there.
We have 20 hammocks suitable for young people and 10 adult ones.
There is also space alongside the village to erect tents if additional camping is required.
We've designed this as a stepping-stone between the likes of a tented village and a full-blown greenfield backwoods experience. This is aimed very much at Cub age and above and should be an easy way to test out whether this is the sort of camping for you. We believe that once you have experienced this, there'll be no turning back.
If you are unsure, do chat to us, there are people here very happy to share their skills and experiences to help you get started.
We've found a number of groups like to do proper backwoods cooking when using this facility and with a little notice, we can also source for you animals such as rabbits, fish, birds etc for preparation and cooking.