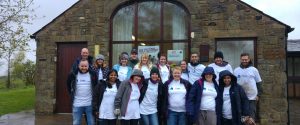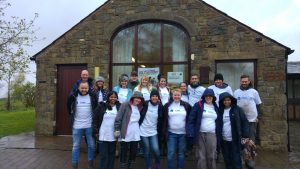 At Bibbys Farm, we'd be nothing if it wasn't for the efforts of our regular volunteers but every so often, we get a boost with some external help in the form of Corporate Volunteers.
These come from Companies who have a great attitude to community impact and want to help others and show that they care too….
Given enough notice, we can work with an organisation to create the right project for them to get involved with and ensure that we have the right equipment and materials ready on-site on the day with plenty of meaningful tasks to get on with. In addition, like all our other volunteers, we feel it only right to provide the meals and plenty of brews to keep them going.
Many thanks to AXA-Cares who were our latest team of volunteers who trimmed hedges and trees, repaired and stained fences, gravelled the roads and potholes, removed tree guards and help lay a new electricity cable to our new tractor garage. They were a great bunch of people who all worked really hard, even when it started to rain.
If your company would like to show that it cares too, please get in touch and see what we can do together.