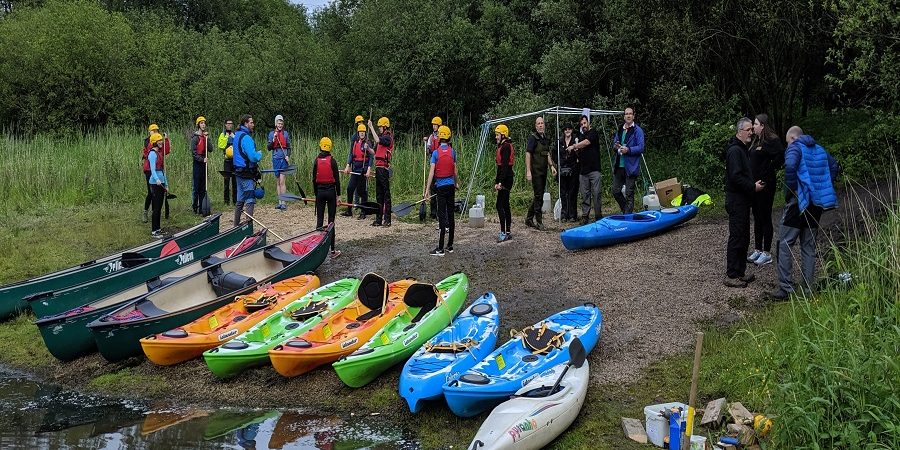 We offer different types of water activity on our lake which is a 6 or 7 minute walk from camp centre.
When booking, select your preference of Kayaking, Open Canoes or Rafting.
However, on the day, unless there is another group also booked on the water, you can mix and match across all the craft we offer subject to the instructor's advice and suitability for your group of young people.
By that, we mean that if you have booked kayaking and your group are struggling getting into the kayaks, you can swap over to "sit-on" kayaks, canoes or rafts subject to availability.
For Scouts, you need a water activity permit suitable for B1 water and stick to the permitted ratios of young people to instructors.
If you are booking our instructors, you will need one instructor per 8 people on the water at any time. For larger groups, the most cost effective way of organising the day is to have consecutive bookings. For example, if you have 24 young people, book kayaking for a three hour slot. 8 people can do an hour, then swap over to the next 8 and then the final 8 for the last hour.
Although not impossible, it is VERY difficult for us to try and find 3 instructors to give you one hour on the water for all 24 young people.
We have sufficient craft to have up to 40 people on the water at any one time.
Please bear in mind that for a one hour session, not all of that will be on the water as everyone needs to put on their bouyancy aids and take the craft down to the water's edge and back. Usually, an hour booking will give you 40 minutes or so on the water.