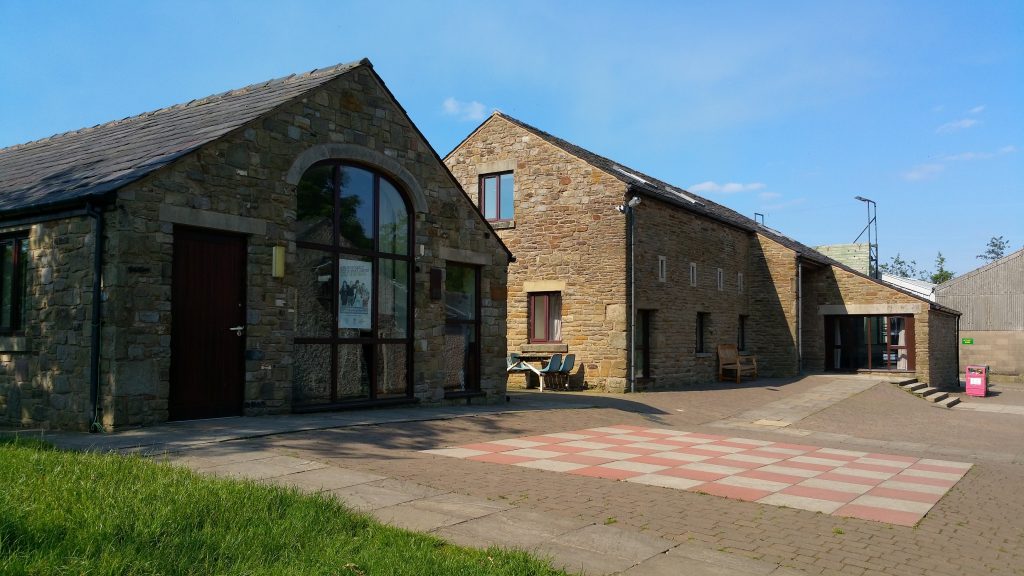 Our main accommodation barn, Hulton Lodge is purpose built with flexibility, ease of use and accessibility in mind. A first glance at the pricing structure may initially be confusing but please persevere as its complexity is there to give you best value for your group.
Essentially, the building can house one large group of up to 52 people or two smaller groups. Each group would have their own kitchen & dining room (One is upstairs, the other downstairs) plus a varying number of bedrooms to suit the size of their group. Each half of the building also has its own toilets and showers.
We also understand that for a group with boys and girls and male and female leaders, you're going to need 4 bedrooms even if you only have 4 people. Our pricing means that you don't pay over the odds for beds that you can't use.
Please note though, the basic booking includes a number of beds BUT if you manage to fill more beds than that up to the maximum for the building then there is an additional, small, per/person charge for everyone above the included number.
We also appreciate that some groups will wish to have the use of a kitchen and a small number of bedrooms whilst also catering for a larger number of people camping alongside. Our downstairs kitchen is large enough to cater for over 150 people whereas the upstairs one can cope with about 50 people.
All our bedrooms are situated on the ground floor and are wheelchair accessible. There is also a wetroom in additional to the usual toilets & showers designed especially for wheelchair users. The building is centrally heated with underfloor heating, double glazed and free wifi is included across the whole building.
Both dining rooms also have projectors, screens, speakers & Blu-Ray players installed for you to use.
Our On-Line Booking Form uses codes to describe the rooms you need:
UCK = Upstairs Canteen Kitchen
DCK – Downstairs Canteen Kitchen
B123 = Bedrooms 1, 2 and 3
B67 = Bedrooms 6 and 7
C = Plus additional Camping
So, for example DCK+B67C would mean the Downstairs Canteen/Kitchen plus two bedrooms (6 and 7) plus additional camping outside
Bedroom sizes: (Sleeps 52 in total)
Room 1 sleeps 7
Room 2 sleeps 10
Room 3 sleeps 6
Room 4 sleeps 8
Room 5 sleeps 5
Room 6 sleeps 8
Room 7 sleeps 8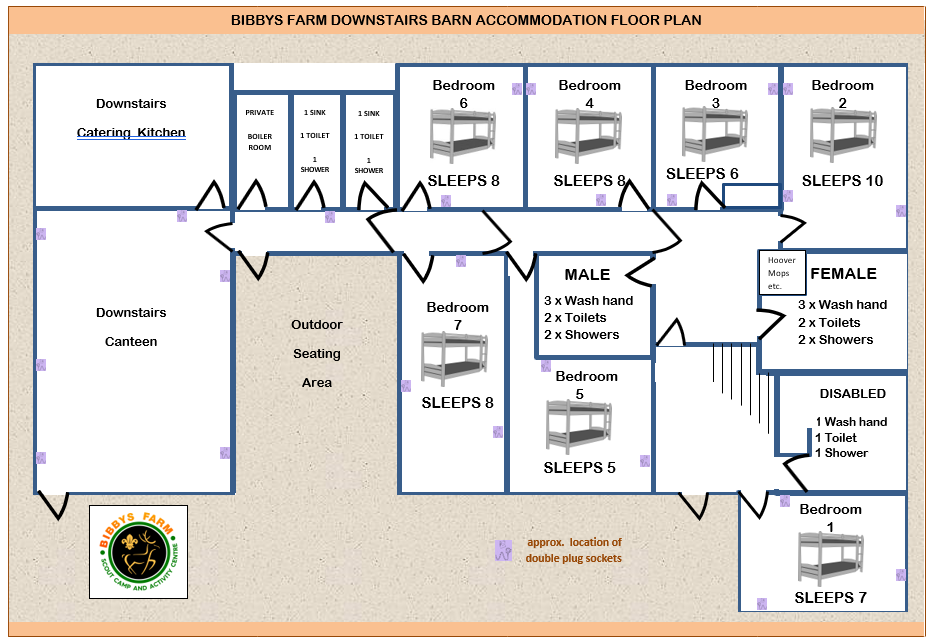 Download the PDF Floor Plan
View or download our accommodation price list
Proceed to our booking page
---
Please use this calendar to check availability.
It will display either "Upstairs" and/or "Downstairs" booked or will be blank.
If blank, the whole barn is available, if just one part booked, the other is available.
Click Here to submit a provisional booking