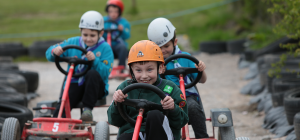 We have recently completed the complete refurbishment of this activity including a purpose-built track with a covered waiting area.
In addition, the course is flootlit for use at night.
We have 4 pedal cars that can be used on our track plus a couple of spares in case of running repairs.
This activity is run on a self-led basis where you supervise the activity to save having to hire an instructor. It is suitable for all young people although the very smallest of whom may need a push to get the pedal car moving. We advise a maximum group size of 12 to get a good activity session.