We have many development projects on the cards that we can "green-light"as soon as we have sufficient funds to bring in the builders.
As soon as one is finished, we'll move on to the next and so on as income generation proceeds.
---
UPDATE
The builders move onto site and start the build Monday 8th January 2018!
We have sufficient funds to complete the first phase i.e. the slab, shell, roof, doors, windows etc but we are still raising funds for the 2nd phase which is to plumb & wire & fit out the internals of the building. Please Sponsor a block
---
Current Progress
[thermometer]
Overall, we want to raise up to a million pounds to achieve all our dreams but we'll list here our next milestone and our progress towards it.
Our next milestone is to raise the remaining funds to finish the 2nd phase of our new Bunk House.
Keep an eye on our progress and the thermometer here which will show our weekly progress towards that next goal.
20th Bolton Scout Group
20th Bolton had raised funds for a building some time ago and have transferred these funds to us to help start our funding appeal. This first £20,000 is a cracking start to our project.
Bolton Scout Trust
The Bolton Scout Trust at their AGM have agreed to pledge £30,000 towards our funding pot which is a massive boost.
David Bootland
David Bootland, one of our Directors has celebrated his remarkable year in Scouting where he was awarded his Silver Acorn and 50 year service award. To celebrate a remarkable year, he has pledged £1000 personally towards our building fund.
Ways YOU can help us
Below are a number of ways in which you as an individual or a group can help us to achieve our ambitions sooner rather than later, please have a look and see if we have a way that suits you……..
Personal Small Donation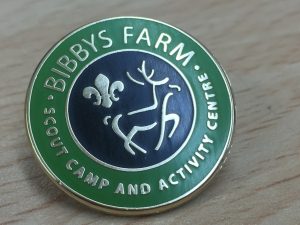 We're very aware that in these austere times, people may not have a huge amount of spare cash to give away and so our starting point is by donating a small cash amount (Minimum £5) and in return, we'll post a limited-edition enamel badge to you to wear with pride.
You can do this either via our web site Here or personally on-site in our tuck shop.
easyfundraising.org.uk
Using this web site, you can help generate small cash donations each time you shop on-line. There is no additional cost to you or any additional steps, your usual shopping sites such as Ebay, Amazon and many more sites send us donations direct when you shop.
Register Here or install the easy-to-use browser toolbar which prompts you when you're shopping to remind you which retailers support us.
Gifts In-Kind
There are lots of "things" we will need to purchase to get our projects started so maybe there is a way you can gift us things "in-kind" rather than make a financial contribution. This can be just as useful for us as a cash donation and there are many things we will need. For the bunk house alone, we'll need concrete, blocks, electrical & plumbing fittings, carpets, bunk beds, kitchen & bathroom fittings & appliances, paint, tiles, timber and much more. Offering to supplymaterials could be a cost-effective way of supporting us.
Gifts In-Person
Equally, provision of services rather than materials could be easier for you to help us. For example, Rivers Electrical in Chorley have already made an offer to donate all the labour for the electical wiring for the Bunk House. Whereas any donations like this will still need to work with the main Contractor, this is a valuable donation that will get us to the starting point much quicker.