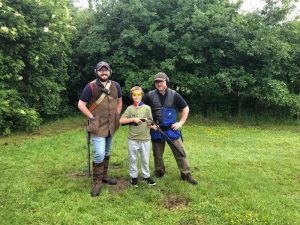 We can now offer Clay Pigeon Shooting as an activity on-site.
This is run by one of our volunteers who is both a Scouter and a Policeman. He's undertaken all the appropriate training and we have a 3 year license to deliver the activity on site.
This is not a cheap activity but we are providing it at the lowest possible price we can to allow people to have the experience.
Craig uses two different types of gun, a full 12-Bore shotgun and also a smaller guage gun with a lower recoil which has been used sucessfully with 8 year olds.
However, we are aiming this activity at the older end so that there can be some progression i.e. cork guns, rifles then Clay Pigeon shooting.
As Craig works shifts, if you are interested in booking this activity, ideally we need a few options on dates & times so that Craig can work around his free time.
The session is based upon the number of shots purchased.
You can use this in any way you like, either one person firing all 15 or 3 people having 5 shots each. Additional batches of 15 shots are available at the same price.
See our current price list for details
Book Via the office.