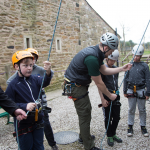 Date/Time
Date(s) - 06/09/2020
09:30 - 16:30
Location
Bibbys Farm
Categories
This course is open to all adult scouters to spend a day learning to deliver climbing & abseiling as an activity.
Unless coming with significant experience, it is likely that participants will then need to get some practise working under supervision and return for a practical assessment once confident.
For people who then wish to use this to act as one of our volunteer instructors, we will refund 100% of the fee after delivering a number of sessions for us.
The course will cover the training & technical assessment, a Scout permit will still need some input from the participant in their local District.
Climbing and Abseiling
This course is designed to teach the specific skills required to lead a group climbing and abseiling (single pitch top) on artificial walls and towers.
The course content will cover all aspects of the assessment criteria for a Scout Association artificial top rope, leadership permit.
Please note this is a training course and will not result in participants acquiring a permit merely by attendance. A consolidation period for ongoing learning will ordinarily be required following training, to hone the skills covered and acquire instructing experience (logged) prior to presenting for assessment.
Bookings
Bookings are closed for this event.