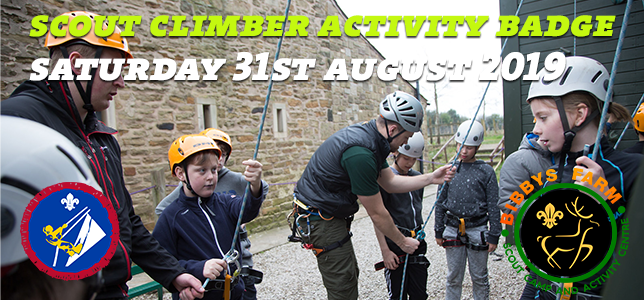 Date/Time
Date(s) - 31/08/2019
09:30 - 16:00
Location
Bibbys Farm
Categories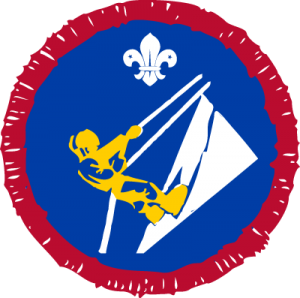 We have a 1-day course scheduled for Saturday the 31st August to run the Climber Activity Badge for Scouts.
There are 15 places available on a first come, first served basis.
Open to any member of the Scout section, who has prior experience of climbing and abseiling (recommended at least 2 sessions).
The day will be split 50/50 between both theoretical and practical elements of climbing; covering all aspects of the climbers activity badge (which you will be awarded at the end of the day). The subject area will be covered in enough depth to also count as one of the three activity areas required for the Activity Challenge Badge.
The badge requirements that we will cover are:
Show that you know the rope types used for rock climbing. Explain how to coil and maintain them.
Show that you know how to fit a climbing helmet and harness and how to tie in correctly.
Show you understand the calls used in climbing.
Show that you know how to abseil down a face. It should usually be at least 10 metres high. Alternatively, you can take part in a climbing-like activity, such as crate stacking or high ropes, and show you know about the safety equipment used.
Take part in four or more separate climbs. Your climbs should either be on artificial walls of grade 4+/5 or natural faces up to 'difficult' standard. You could do a mixture of both, using a different route for each climb. Either way, an experienced climber must supervise your climbs and evaluate your ability.
Explain the safety rules for climbing on both natural and artificial rock faces.
Show that you're aware of environmental  issues around climbing on atural rock faces.
Explain how to care for the equipment you used. Also, explain what you should look out for when equipment is nearing the end of its life.
The day starts right after flagbreak at 09:30 and runs until 4pm, bring a packed lunch
Bookings
Bookings are closed for this event.